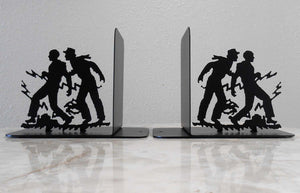 Officially Licensed and sold through our Drewtique - Hardy Boys Silhouette Bookends - From Steve & Colleen of Just For The Art Of It - these are beautifully made Hardy Boys bookends. They are nice and heavy weight, very good quality. Made from heavy steel sheet. SIZE: 6" tall x 6" long x 5" depth. Overall with the lower book tab they are 8" long.
 ***PLEASE NOTE: Special order item - these take up to a month
+ if not already on hand.
***